23/12/05: New Mixed Route on the Stanley Headwall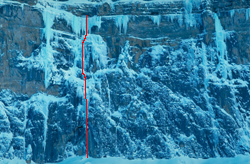 In 1998, Dave Thomson and I began working on a new multi-pitch mixed route on the Stanley Headwall. It started up a beautiful clean wall split by a crack in hopes of gaining a thin ice smear that flowed directly down from the upper ice of The Day After Les Vacances de Monsiuer Hulot (Damalano / Josephson 1995). Unfortunately, the necessary smear refused to form on a regular basis resulting in the line remaining incomplete. With Dave coming out of mixed retirement and the smear looking as good as ever, we decided to return to polish it off naming the creation Dawn of the Dead (Dave has a thing for cheesy horrow flicks). The first pitch is a 40m mega-classic (of course, I am biased) following the crack with a mixed of bolts and gear to reach the thin ice. The pitch starts off with 15m of fun drytooling in a pick-swallowing crack system. The crux involves pulling a 4 foot roof on technical torques in a finger sized crack with bomber Camalot placements. After a calf-pumping "rest" in a small alcove, you swing around an awkward arete on the ice smear. A few bolts protect the dicy bits then you are on your own in stubby-land for the final 15m to the anchor. Three more pitches of ice lead to the top.
Dawn of the Dead M8+ WI6, 140m
FA: Sean Isaac, Dave Thomson, Dec. 05.
Approach: As for Monsieur Hulot across the snow ledge from the treed shoulder on the right. This is an exposed traverse with an uncompromising runout should you trigger a pocket of windslab.The route itself begins 30m to the right of Nightmare on Wolf Street.
Gear: Small to medium Stoppers, Camalots #.3, #.4, #.5 and #.75 (1/2" to 1 1/2"), 20+ quickdraws including tripled-draws and screamers, screws including stubbies.
1) M8+ WI5, 40m. 2 bolts gain a splitter crack (small to medium Stoppers). 4 more bolts lead over a small roof and past a hollow flake. Place a #.75 Camalot in a perfect crack to protect up to the big roof. Clip a bolt then lean out to place a #.5 Camalot near the lip of the roof. Commit to technical layback torques to turn the lip and continue up the narrowing crack to an alcove beneath another big roof (small Camalots). Clip a bolt out right and make awkward and pumpy moves around the aret to the ice smear. 4 bolts protect the thin, steep ice blobs. Continue up easier angled but thin ice to a 2-bolt anchor on the right.
2) WI4, 30m. Thin ice leads to a snow lead and a 2-bolt anchor behind the pillar.
3) WI6, 50m. Steep ice leads to a cave belay.
4) WI5, 20m. Continue up the final pillar to the top.
Descent: Rappel the route first from V-threads then from 2-bolt anchors.
copyright 2004: SeanIsaac.com