I currently have two slide shows that I present on a regular basis. I can offer either one of these or customize a presentation to specifically suit your needs. Please
contact me
if you want to arrange a show or discuss details.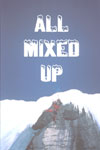 "All Mixed Up -- Modern Mixed Climbing in the Canadian Rockies"
Sean Isaac, author of "Mixed Climbs in the Canadian Rockies" and "How to Climb:Mixed Climbing", gives the audience a firsthand insight into the cold world of modern M-climbing. Covering the past, present and future of the Canadian Rockies mixed scene, the show features slides and video of cutting-edge climbing in this mixed Mecca. Images of outrageous rock and ice creations combined with stories of epic first ascents will have you praying for an endless winter. A short video, titled "Unleashed", covering the new development of leashless ice and mixed climbing, provides an exciting finale to the show. Runtime: 50 minutes.

"Planet Granite -- Alpine Adventures from Around the World"
Sean Isaac has established new alpine mixed and big wall routes all over the world. In the past seven years, he has successfully completed 14 expeditions to remote mountain ranges in extreme places like the Canadian Artic, Patagonia (x3), Peru, Pakistan and Kyrgyzstan (x3). "Planet Granite" does not only focus on his many wild first ascents but also offers insight into the rich and unique cultures of these exotic destinations. Tales of multi-week big wall epics on stormy towers, hard mixed climbing on icy faces and splitter hand cracks on high altitude spires will have you on the edge of your seat planning your own alpine adventures. Runtime: 50 minutes.
Client list for speaking engagements includes:
Banff Centre for Mountain Culture
Vancouver International Mountain Film Festival
Best of the Banff Mountain Film Festival, Santiago, Chile
Canadian Himalayan Foundation
Alpine Club of Canada
University of Calgary
Caribou College
The College of the Rockies
University of New Brunswick Rock and Ice Club
Forzani Group
Black Diamond Equipment, Ltd.
Eastern Mountain Sports
Mountain Equipment Co-op
Ouray Ice Festival
Mt Washington Ice Festival
Munising Ice Festival
High Adventure Ice Festival
Calgary Slide Show Festival
Festiglace du Quebec