06/03/20: New Mixed Routes in Scotland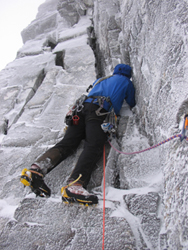 The BMC International Winter Meet happens every two years at Glenmore Lodge in the Cairngorm Mountains of the Scottish Highlands. Alpine clubs and federations are invited to send 1 or 2 members who are leading climbers to spend a week sampling Scottish winter climbing with UK hosts. Ice climbers from all corners of the globe where in attendance including USA, France, Germany, Switzerland, Italy, Slovenia, Serbia, Croatia, Norway, Denmark, Holland, Sweden, Lithuania, Greece, Portugal, China, Japan and South Africa. Yes, there is supposedly ice in South Africa. Everyday we were teamed up with a local host and were sent off in search of icy adventure. In the 6 days we has slotted for climbing, the weather hosed us on 2. Luckily the 4 climbing days we did end up doing were stupendous. Since starting ice climbing 15 years ago, I have always wanted to taste Scottish winter climbing since it is the birth place of ice and mixed climbing. My 4 climbing days results in 2 days of ticking classics and 2 days of opening new routes.
The first new route was on day 2 with Mr Scotland himself, Simon Richardson. We did an unclimbed buttress on Corrie of the Chockstone Gully in the remote Braeriach area which entailed a 5 hour approach. The long slog was worth every step as I got a great dose of true Highland wilderness. The climb itself provided 3 pitches of perfect M5 (Scottish V 6) traditional mixed climbing complete vertical frozen grass climbing. We named the climb "Slovenian Death Water" after Rok Zalokar's schnapps that his grandmother made for him to get us all wasted. I definitely prefer the 12 year old single malt.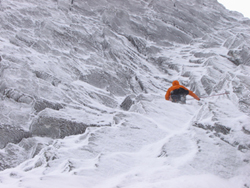 The other new line was on the Sioux Wall of Ben Nevis with Ian Parnell. Ben Nevis is the highest peak in the UK and the epicenter of Scottish winter climbing with hundreds of classic gullies and buttresses to ascend in winter. 5 pitches of technical and tenuous mixed climbing up a hanging corner on a steep arete. Ian did an incredible job on the crux which took over 2 hours of brain sizzling hooking and scratching. We named this route "Curly's Arete" M7 (Scottish VIII 8) after Karen McNeil who we both had climbed with. We made the top just as it got dark. Check out this link to Climbing's website where Dougald MacDonald (who also attended the event) posted a news flash about all the action on Ben Nevis that day. I have also written a more detailed account of my trip on my blog.

copyright 2004: SeanIsaac.com