05/04/04: Two new alpine mixed routes in Alaska.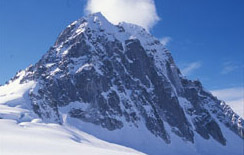 Shawn Huisman and Sean Isaac climbed two new routes during a two week door-to-door trip to the Alaskan Range. This was their first climbing trip to Alaska and they consider themselves very lucky to pull off, not one, but two first ascents in such a short time period. Taking advantage of colder temperatures (thus longer nights unfortunately but still only about 6 hours of darkness) of April, conditions on sun exposed face were perfect with good snow, ice and mixed.
The first route was a narrow gully on the 2500ft east face Royal Tower in Little Switzerland. Canadian Bacon (ED1 M5 WI4) involved 3000ft of actual climbing up thin, foamy ice and steep mixed. Much of the ice was too snowy to accept ice screws making for unnerving climbing as picks threatened to slice through the vertical "sn'ice". The route finished up the southeast ridge to the summit and was completed in a 17-hour round-trip with lots of simul-climbing. Isaac sets the bait: "There are still a few interesting looking ice and mixed objectives on Royal Tower so get after it!"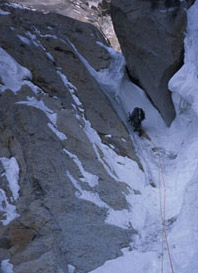 Two days later, they bumped over to the Tokositna Glacier and the base of the 3500ft south face of Thunder Mountain which is a Chamonix-looking peak (gully-buttress-gully-buttress, etc) that is actually a spur of Mt Hunter. This face was the scene of Malcolm Daly's epic accident and rescue in 1999 that cost him his lower leg.
In a 14 hour round-trip, they knocked off the last major unclimbed gully which is located on the left side of the south face. Maxim (ED1 M4 WI5) begins as a steep snow gully that gradually pinches to fun ice and mixed climbing. The first crux negotiated steep ice (slightly overhanging at one point!) around the left side of a truck-size chockstone. The last couple of pitches involved a 2ft wide, spotty thin ice runnel leading to a prominent notch on the gendarmed summit ridge. Unseen from the glacier, this tight, shoulder-width goullotte provided the best climbing of the trip.