VIDEOS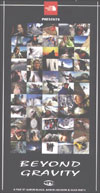 Beyond Gravity by Black and White Productions 2000.
Narrated by Greg Child
Featuring Peter Croft, Barry Blanchard, Katie Brown, Lynn Hill, Steve House, Sean Isaac, Abby Watkins and many more.
Purchase VHS or DVD online at www.beyondgravity.com.
---
Unleashed by Frosty Productions 2002.
Directed / Produced by Sean Isaac and Brad Wrobleski.
Featuring Sean Isaac and Guy Lacelle.
Aired on Resort Sport Networks "Best of the Banff Film Festival" Series.
Finalist in Vancouver International Mountain Film Festival.
Finalist in Moscow Mountain Film Festival.
Finalist in Montreal Mountain Film Festival.
copyright 2004: SeanIsaac.com