BOOKS
by Sean Isaac
with photographs by Andrew Querner
Published by Falcon Books
Order online from Falcon Guides for $15.95 USD.
---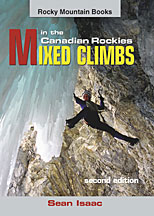 FINALIST: 2004 Banff Mountain Book Festival
The 2nd Edition of Mixed Climbs in the Canadian Rockies, by Sean Isaac, published by Rocky Mountain Books, contains nearly 300 routes ranging from M4 to M12. Its 240 pages are packed with exciting photos and informative topos and maps.
It sells for $21.95 CAD and can be ordered directly through Rocky Mountain Books.
GUIDE BOOK UPDATES (NEW MIXED ROUTES)
copyright 2004: SeanIsaac.com