The Magic Carpet Ride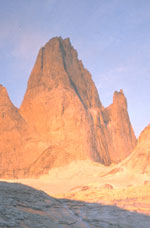 On February 6, 1999, Conny Amelunxen and I completed the first ascent of the 800m east face of The Mummer (Cerro Mascara) in the Bader Valley of Torres del Paine in Chile. This major Patagonian prize had been attempted at least three times previously, one of which was by Patagonian veteran, Alan Kearney. This alpine mega-needle has seen little attention until recently due to the fact that the Bader Valley had been overlooked for many years.
We arrived in Chile on January 7 then, after sorting out permits and buying food in Puerto Natales, left for Torres del Paine National Park to arrange horses to carry the majority of our equipment to a drop off point forty-five minutes shy of basecamp-- Campo Welsh. The next two weeks involved humping all of our bigwall gear from the drop off point to basecamp and eventually onto an advanced high camp at the edge of the glacier only an hour from the face. Also during this time, we managed to fix the first four pitches with the four static ropes that we had. Our plan was to climb the wall capsule style which meant fixing a limited supply of four ropes then commit to the route by hauling our lines up behind us and setting up a portaledge camp to begin fixing our four ropes again. This process is repeated until we are in a position to leave everything behind and push for the summit.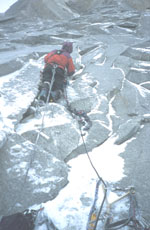 With two weeks of hard work behind us and only one rest day, we moved onto the face on January 27, armed with three haul bags full of the necessities needed in order to live on a wall for two weeks. This included, among other things, a double portaledge with expedition fly, hanging stove, -15 Celsius sleeping bags with bivy sacs and ten days of food and water that could be stretched, if need be, to fifteen. As far as actual climbing equipment is concerned, we were racked to the teeth with three to four sets of cams, many stoppers and micro nuts, over sixty pitons, copperheads, hooks and two bolt kits along with our four static ropes for fixing and three dynamic lead lines. The days set aside for hauling were grueling affairs as the total weight was well over two hundred pounds, necessitating double and triple hauls.
Unfortunately, the day after committing to the wall, Conny was nearing the end of a long string of heads while leading the fifth pitch, when he was stunned to notice that our tent down on the moraine, which contained the rest of their money, passports and plane tickets, had blown away. With no other option, we tied their ropes together and descended to rescue our travel documents from the carnage of the shredded tent then jugged back up the next morning for good.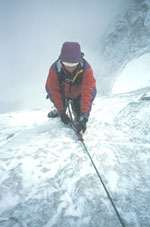 The route involved primarily direct aid climbing with very little free climbing, occurring only on the first pitch, one pitch in the middle and then the last five pitches to the summit. The aid was difficult with many long stretches of body weight placements (i.e. heads, beaks, hooks, etc.) and bad fall potential producing an overall grade of modern A3+. Due to the difficulty and our long pitches (never less 50m), we operated on a pitch a day speed until we neared the top where more free climbing opportunities presented themselves. The wall took fourteen days to climb and descend; however, four of these were stuck in our portaledge as continuous storms caused serious sluff avalanches and dangerous ice bombardments. Spontaneous rock fall frequently occurred to our right in the scooped face but our pillar was somewhat protected. It was the wind that caused the most anxiety as it threaten to shred our portaledge fly and cut our fix lines. The cold temperatures that we experienced wreaked havoc on our bodies: our fingertips painfully cracked, our feet received minor frostbite and trenchfoot (mainly just nerve damage) and we were always wet and cold at night due to the constant decline of our sleeping bags as they became more and more soaked from the endless condensation and puddles in the portaledge.
We had two different hanging portaledge camps - one at the top of pitch five and one at the top of pitch nine - from where we would fix to the next suitable site or in the end to a point from where we could blast to the top. On February 6, after another sleepless night due to the raging storms, we had a late start but managed to complete the last steep, aid pitch from where we switched plastic boots for cold, tight rock shoes and cruised the last five pitches to a point three meters below the actual summit. These last moves we left unclimbed because it involved a 70 degree slab carpeted in a layer of thick, black lichen which was surprising as there was no vegetation on the entire route until the summit ridge. Now that we were on the ridge, exposed to the 100 km/hour westerly winds blowing off of the ice cap, the final moves seemed too sketchy so we called it good and began the rappels back to our portaledge. That night yet another snow storm blew in keeping us trapped in our hanging tent for two days before we could safely descend the rest of the route to the ground.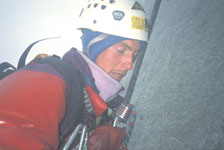 We named our 17-pitch first ascent "La Alfombra Magica/The Magic Carpet ride" (VI 5.10 A3+) after one particularly scary episode on the wall. One, especially, gusty night, the tie down under the portaledge that secured the bottom of it from being blown around came undone causing us to hover and bounce violently in the air for what seemed like an eternity. Finally, when we came crashing back down onto the anchor, our hearts began beating again in order for us to quickly reset the tie-down.
Out of the 17 long pitches, only one was particularly loose with rest ascending beautiful straight in cracks and perfect corners on solid granite. We rapped our route off bomber anchors, mainly two bolt (3/8") stations then piton/nut anchors higher on the mountain. This was only the third new route on the entire mountain after Dave Cheesemond's/ Phil Dawson's first ascent in 1976 and John Merriam's/Jonathon Copp's one day ascent establishing "Duncan's Diehral" last year, leaving acres of unclimbed granite on The Mummer as well as the other equally impressive formations of this rarely explored valley.
copyright 2004: SeanIsaac.com