Vodka, Nomads and Thin Ice: A Kyrgyz Climbing Adventure
by Sean Isaac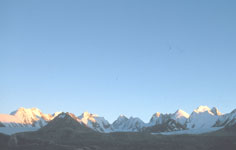 "If we even get to SEE the mountains, this trip will be a success!" Scott sighed as he resigned himself to endless setbacks. Being the neophyte Asian traveler, my climbing partner, Scott Decapio, was not fully expecting the amount of delays en route to our hoped for basecamp at the foot of the West Kokshaal-Tau range in Kyrgyzstan. Transportation screw-ups in the capital city of Bishkek and permit problems in the military outpost town of Naryn quickly became trivial matters as soon as our tiny Russian-made Lada Niva kept getting mired down in the soft mud of the high steppe. Stymied by wet bogs for the fourth time in only 24 hours had us believing that digging and pushing might be the only physical activity of the trip.
The West Kokshaal-tau is a remote, military-restricted region of the Tien Shan. This little-known thrust of jagged peaks is located on the mountainous border separating China to the south from Kyrgyzstan to the north. If all goes as planned, it is only a two day drive from Bishkek to basecamp. Invariably, it always takes much longer. I experienced these exact same frustrations when I climbed here in 1998, but as usual, time and a selective memory allowed me to forget these unpleasant details. Three years of staring at photos had inspired me to return and attempt the stunning unclimbed, 1400-meter southeast face of Kizil Asker, also know as Pik Red Soldier.
Of course, everyone thought we were crazy for even thinking of going to Kyrgyzstan after the kidnappings of the four American climbers in the Ak-su last summer. However, like I insisted at home and confirmed once arrived, Kyrgyzstan, for the most part, is safe and secure. Last year's troubles occurred in a completely different region that is geographically and culturally isolated from the rest of the country.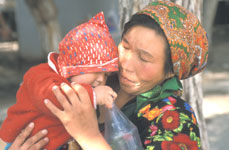 Kyrgyzstan is an ethnic stew simmering with Uzbeks, Tajiks, Kazaks and relocated Russians in addition to the Kyrgyz population. This cultural melting pot has been repeatedly plundered over the centuries by infamous conquerors such as Alexander the Great, Genghis Khan, and, most recently, Stalin. After almost a century of Communist oppression, it has emerged as an autonomous republic struggling to stand on its own two feet with the crutch of a new democratic government. However, Soviet ways are hard to dismiss as both Islam and capitalism rush in to fill the void left after Moscow's withdrawal in 1991.
Despite these apparent problems, Kyrgyzstan is an alpine dreamland, comprised of 90% mountains, much of which is unexplored. Unlike its neighbors Kazakstan and Uzbekistan, this small country lacks major stocks of natural resources. They must therefore rely heavily on the newly developing tourist trade. Beautiful mountains, lakes and rivers, in addition to an ancient and interesting culture, attract adventurous travelers from all over the world to this wild corner of Central Asia.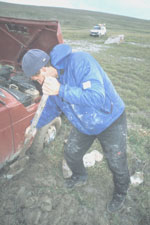 Half of the attraction of third-world expeditions is the cultural emersion. Getting the jeeps stuck near Kyrgyz encampments allowed us a first-hand look into an ancient way-of-life that has remained relatively unaltered since the Silk Road days. Nomadic tribes roam the barren grasslands on horseback, dwelling in Yurts and tending to their flocks. Stepping into a Yurt is like entering a time portal and being whisked back thousands of years. Inside, the felt walls and dirt floor are layered with vibrant hand-made rugs called sherdaks. Antique muskets, still warm from hunting Marco Polo sheep, lean near the entrance. A shriveled, old woman squats in the corner dishing up bowls of fermented mares milk called kumis. The children are like children anywhere in the world, curious, playful and rambunctious. However, these youngsters are practically born on a horse and are skilled bareback riders by the age of six. The sights, smells and tastes are sensory overload and remind me that there is much more to be experienced on these climbing trips than just climbing.
In the end, Scott and I did manage to get to basecamp but unfortunately we were unable to even try our objective on Kizil Asker due to extremely unstable weather. It snowed every day but one in the three weeks we spent in the mountains. As a consolation though, the high precipitation created incredible summer ice conditions. Neither Scott nor I have ever been to Chamonix but we have both drooled over photos of its iced streaked granite. What we discovered above the Komorova Glacier in the West Kokshaal-Tau was a veritable untouched Chamonix, minus the crowds, cafes and telepheriques. Stunning ephemeral lines hung everywhere allowing us to snag three new alpine mixed routes.
Our warm-up climb made the first ascent of the east face of Pik Gronky. We named our route Silent Bob after the Kevin Smith character in such movie hits like Clerks, Mall Rats and Dogma. Silent Bob comprised of a 250-meter, grade-4 ice gully that we simul-climbed to a 50-degree ice face followed by an elegant snow arête to the 4950m summit.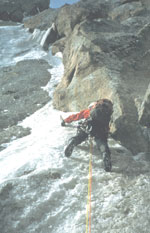 Next, we made the second ascent of the 600-meter Ochre Walls. A long couloir with 70-degree bulges spilt the lower section of this vast, orange-hued rampart. Where the couloir pinched off, we found three stellar mixed pitches. Stoppers and Camalots conveniently protected narrow ribbons of thin ice lacing smooth granite slabs. Splitter cracks would appear just when needed to swallow up bomber protection; a welcomed relief from the compact and shattered limestone of the Canadian Rockies. South Park's chubby second-grader, Eric Cartman, provided the inspiration for the name: Beef Cake.
Between climbs, much time was wasted hanging out in our tiny Integral Designs tent at highcamp acclimatizing, feeding and sitting out storms. From our cramped head-to-foot arrangement, Scott and I would spend inordinate amounts of time just staring at each other listening to snow slide down the outside of our shelter. On occasion, we'd have whole dialogues just by quoting lines from our favorite movies and TV shows. Austin Powers, Pulp Fiction and The Simpsons all provided hours of nonsensical conversation to alleviate tent-bound tensions.
Sometimes after particularly long periods of silence, Scott would blurt, "I hate alpine climbing!" An odd statement coming from someone who has lived out of his VW Fox for almost five years just so he could climb mountains full-time. Regardless, I understand his predicament. Being stuck in a fetid under-sized tent with yours truly is a bad replacement for a warm cozy bed next to your girlfriend. Luckily, we never had to endure prone positions for too long, as the weather would usually let up enough for us to dash up and down a peak at the rate of one new route per week.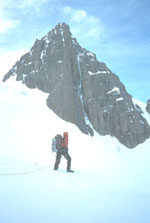 Our last climb was the type of line that I had always dreamed of finding: A 700-meter goulotte of ice slicing an unclimbed granite buttress. In the inky darkness of pre-dawn, we cruised up into the gully on easy snow moving together until the ice steepened. I took the first lead up grade-4 water ice. Scott followed through negotiating thin runnels pouring over short, steep steps.
Upon reaching his stance, I shot back a GU and stared up at my next lead. A meter-wide vein of gray foam was smeared in the back of a vertical corner. Stemming up the strenuous pitch, I gagged repeatedly with dry heaves brought on by the altitude. Our altimeter watches registered us around 4800m, which was high enough to have us both feeling ill and lethargic. Calves quivering, forearms flaming, my oxygen deprived muscles cramped from the exertion. Half way through the lead, I stole a peek down between my Sabretooth-clad feet to see our pair of super skinny 7.6mm Ice Thongs snaking from my harness down through a series of stubby Express screws. A sobering view that made me focus hard to make sure each pick placement was 100 percent solid. The possibility of a tool shearing out of the frothy ice was a real concern. Moving steadily upwards, I stretched out the 60m ropes to slightly thicker ice and drilled two long screws for the belay. Physically and mentally spent, it was one of my most memorable and aesthetic leads in the mountains.
More moderate terrain led to a body-width pillar tucked in the back of a chimney. Scott gently tapped up the loosely adhered column with controlled precision and pulled over a scrappy chokestone capping the slot. Above this last crux, we simul-climbed 5-pitches worth of 60-degree ice punctuated by a few short-lived cruxes over rock steps plastered with sun-rotted snow.
We tagged the top of a small, unclimbed peak on the jagged ridge of the Pik Unmarked Soldier massif then immediately began the descent. A menacing black sky was rushing in from the southwest and snow flakes were already swirling around with the wind. Our exposed position on the summit ridge would not be a great place to experience the violent electrical storms that plague this area.
A long traverse put us above a broad couloir that looked like it would deliver us down to the glacier. Scott made the first of many V-threads just as the dark storm clouds began to boil overhead. Multiple rappels spat us out on the opposite side of the mountain from our highcamp. In blustery whiteout conditions, we slogged through waist-deep, isothermic slop and crawled over hidden crevasses back around to our tent arriving 17-hours after leaving. Exhausted and famished, we collapsed into our sleeping bags and fantasized about big, greasy cheeseburgers resulting in the route's name of Royale with Cheese. We christened the minor summit Pik Mikhail (c. 5100m) in honor of our guide and basecamp cook, Mikhail "Misha" Cyhapykov.
Less than a week later, we were back in Bishkek at Misha's apartment. He lavished us with food and drink as we celebrated our new routes with toasts of vodka, the Ruski elixir. Heads spinning, guts churning, we did not want to offend our gracious host so we toughened up and subjected ourselves to shot after shot. Misha would shout "Nazdarovia", ironically meaning "To your health". That was our cue to pound back a glass full of throat-burning alcohol. "Death by Hospitality" I've heard this called. No proper Kyrgyzstan expedition is compete without spending a night kneeling over a less-than-sanitized third-world toilet, hurling until sunrise.

Expedition Summary
First ascent of the east face of Pik Gronky (c.4950m) via Silent Bob (IV WI4, 700m).
FA: Scott Decapio, Sean Isaac July 10, 2001
Second ascent of the Ochre Walls via a new route: Beef Cake (IV M5 WI4, 600m).
FA: Scott Decapio, Sean Isaac July 17, 2001
First ascent of Royale with Cheese (V M6 WI5, 700m) on the southeast buttress of Pik Mikhail (c.5100) on the Pik Unmarked Soldier massif.
FA: Scott Decapio, Sean Isaac July 22, 2001
This expedition was supported by the Mugs Stump Award, Polartec Challenge Award, AAC Lyman-Spitzer Grant and the Canadian Himalayan Foundation as well as equipment sponsorship from Black Diamond Equipment, Arc'teryx, Sterling Rope, Kayland, Integral Designs and GU Energy Gel.
copyright 2004: SeanIsaac.com