Azad Kashmir - Unclimbed Granite in Pakistan
by Sean Isaac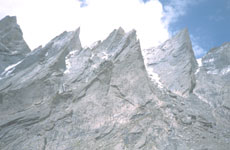 Style counts! Whether it is what your wearing while walking down the street or climbing new routes in the hills. In the climbing world, style is important for preserving adventure and keeping the stakes high. Good style means less cultural and environmental impact on the wild mountain areas we visit as climbers.
When I began tackling big routes, I wanted to do them in better and better style meaning fast and light and as free as possible. I traveled to Yosemite and learned to aid climb which eventually led to a one day ascent of the classic Nose route on El Capitan. Thirty-plus pitches of free and aid done on-sight in under 24 hours was the type of climbing I wanted to be doing; not only in the relatively sterile environment of Yosemite but on the big alpine walls of the world. With partners like Guy Edwards and Andreas Taylor, I learned to climb fast with minimal gear up storm wrought towers in Patagonia, Cirque of the Unclimbables and Kyrgyzstan. However, after getting swatted around lots by fickle weather, I decided to give up this pure method of ascent for the slow but steady big wall tactic. This involves huge amounts of gear and provisions that are hauled up a face allowing you to live in relative comfort on the wall for days and even weeks until the summit is reached. During the year of 1999, I tested this method out on new routes in Torres del Paine, Peru and the Bugaboos and came to the realization that almost anything can be scaled with enough gear and patience. The climbing felt more like construction work than the freedom of movement that I originally craved. Not to say that the days spent living on the wall and the focus of a single goal wasn't rewarding, it is just that it lacked the element of total commitment.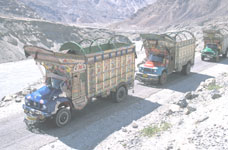 With that, I decided to return to the fast and free style that I enjoyed most. My planned expedition to the alpine granite of Pakistan would be a great reintroduction. When deciding where to go in the Karakoram, the choice wasn't easy. There was the Trango group with Nameless Tower and Shipton Spire as well as the recently discovered Nangma and Charakusa Valleys in the Hushe area but I had a strong urge to explore unknown areas. An Italian friend had told me about a recently discovered valley called the Kharidas that had never been visited until he checked it out the previous summer. He mentioned the possibility for unlimited new routes on unclimbed mountains which was all I needed to hear to convince me to go.
My partners for this trip came about in an odd way. Todd Offenbacher and Nils Davis of California had beat Brian Webster and myself to the virgin west face of Central Howser Tower in the Bugaboos. This was the last major unclimbed face in the Bugs and we were scooped by a couple of Yanks who by chance became very good friends. Having discovered that they had just climbed the face that Brian and I coveted, I decided there was no point in holding a grudge and invited them for diner before they headed back across the border. After a night of food, beer and discussing future possibilities, we decided on a trip together to explore the granite spires of Pakistan.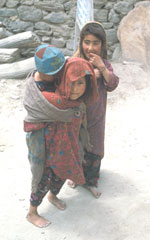 A year later, myself, Todd, Nils, Hermien Schuttenbeld, and Shawn and Shelly Huisman were in the midst of the sweltering, sticky heat of Pakistan's capital, Islamabad. Cramming into a bus with all our gear, we headed north for Skardu. The two day drive up the infamous Karakoram Highway was a white knuckle experience. In fact, it was probably the most dangerous part of the whole expedition. With loud Pakistani music blaring from the radio, our driver managed to swerve his way up the narrow road carved into the side of the Indus River gorge narrowly missing ornately decorated Junga trunks that proliferate this pitiful excuse for a highway. Our drivers technique for negotiating blind corners and passing slower vehicles was to lay on the horn and shake his fist wildly. This of course was accompanied with constant chanting of "In Sha La", the catch all phrase meaning "If Allah Wills". Pretty hard to argue with that reasoning if you happen to go hurtling off the road and into the raging river hundred's of feet below.
As North Americans, we are constantly bombarded with propaganda denouncing Islam as the source of many problems. For our small climbing expedition, we had absolutely zero problems. The local Punjab's and Balti's that we encountered were gracious and hospitable. It is stated in Islamic doctrine to be accepting of strangers but this goes beyond religious laws. The people, especially the Balti's of the Hushe Valley, are genuinely very open and friendly. Even Hermien and Shelly, two blond haired and blue-eyed females traveling in a country where women are regarded as the substandard gender, were treated with complete respect. In fact, they had it better than us men because they were allowed to interact with the local women which we were forbidden to do.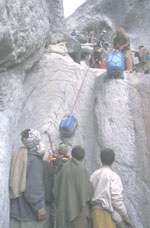 There is a reason that the Kharidas Valley has never felt the touch of climbers until the previous year. The approach is only two days from the main Hushe valley jeep track but it is EPIC. Steep loose gullies and a water polished slab bar access to the upper valley, therefore keeping its climbing potential a secret. Nils managed to sketch up the slab in his sneakers and before you could say "total mayhem", the porters had found one of our climbing ropes and were hauling their loads up the cliff in a cacophony of Balti shouting. By the time, everyone and all the equipment was above the obstacle, the once new rope was trashed with numerous core shots and soaked in kerosene.
Base camp was perched on the only flat bit of real-estate right beside the crumbling moraine. It was a tight fit but we managed to squeeze in all three personal tents and the two cook tents. Ibrahim Munna, our guide and cook, was worried right from the start about potential rock fall from the looming walls that soared overhead. Being the experienced mountaineers that we thought we were, we tried to comfort Ibrahim's concerns by confidently stating that this camp was safe and that rockfall would never reach our small cluster of tents. However, after a week worth of torrential rain, Ibrahim's fears were justified when a massive mud slide of churning boulders and thick brown muddy water gushed from a gully above and missed out encampment by no more than 10 meters!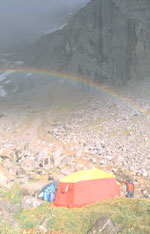 Ibrahim is a local of Hushe but lives in Pakistan's cosmopolitan center of Lahore in the winter working as a chef for a high-end restaurant. His summers are spent working for expeditions like ours because he can make much more money. His cooking and good company quickly endeared us to him. He keep us healthy and eating 5-star meals as well as entertained us with his wild antics and unbelievable tales. Like the time he was thrown in prison for a year after getting caught having unwed sex. Or when he was working as a cook for a Spanish expedition who brought along a blowup doll. While the Spaniards were all away from camp climbing on the mountain, Ibrahim would be busy trading doll-time for packs of cigarettes with porters that passed through camp.
Both Todd and Nils live in South Lake Tahoe, California. Todd used to be a competitive bodybuilder, hence his nickname "Todd the Bod", but has retired from that and is now a TV personality for a local network. Nils, on-the-other-hand, makes his living dealing Blackjack at the ritzy casinos in Nevada just across the state line. Needless to say, both these guys had tall tales of their own. Todd, the natural story teller, would compete with Ibrahim to keep us laughing. Originally from West Virginia, Todd's yarns usually revolved around firing automatic weapons or bar brawls.
The climbing potential of the valley was not exactly the quality we were hoping for. There were many spires but for the most part the rock was very exfoliating. After some acclimatization and scoping, we decided on a shapely pyramid formation farther up the valley. It's stunning south arete swept directly up to its perfectly pointed summit. We estimated the height of the mountain to be slightly over 5000m and the proposed route itself to be anywhere between 600m and 900m of climbing.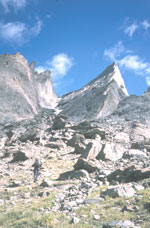 When the weather finally stabilized, Todd, Nils and I rose early and slogged up the moraine to the base of the arete. Our plan was to attempt the line in the best style possible which meant leaving behind bolts, pins and sleeping gear. By traveling with less weight, we hoped to be able to free climb most of the route thus moving much faster than if we were encumbered by big packs or a haulbag. It also meant we had a better chance of getting up and down the route before the weather deteriorated again. Our two tiny packs only held the essentials: 6 liters of water, Power Bars and Gels, Gore-tex shell wear and mountain boots. We left sleeping gear behind in the hope of getting up and down the route in a day or if need be, open bivy for a night. This seemed worth the risk if it meant we could keep the packs small so both the leader and seconds can free climb and move quickly. Our rack comprised of a double set of Camalots and Stoppers. To add to the engagement, we decided on only one 60m rope therefore allowing us to simul-climb easier sections without having to deal with dragging or carrying an extra rope.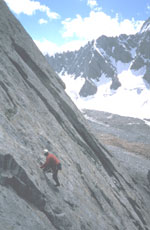 The bottom section of the arete was lower angle so we began simul-climbing with one person tied in the middle. This allowed us to cover the first 300m of the route in just a few hours with only having to change gear once. We cruised up easy slabs and cracks with the occasionally 5.8 or 5.9 crux thrown in for excitement. At one point, I was the middle climber with Nils in the lead and Todd tied into the bottom. Nils was stemming up a 5.8 corner above me while I was kicking steps in a bit of snow at the base of the same corner when the worst thing possible happened. My rock shoes lost purchase on the frozen snow and I slipped thus falling onto the rope threatening to pull Nils off. Luckily for us, Nils was well wedged in the deep corner and I managed to unweight the rope immediately narrowly averting a potentially dangerous situation.
Shortly after this heart stopping episode, the rock became steeper requiring us to start pitching it out. I began my block of leads but after only a couple pitches, I became dizzy due to the quick gain in altitude. Our altimeters registered us at just below 5000m and it was definitely starting to affect all of us, especially me. The last 300m of the route became technically harder the higher we went. The climbing was intricate, linking together discontinuous cracks via sketchy sections of slab. The difficulty was in the mid-5.10 range but the altitude, remoteness and marginal gear made it seem much harder and more serious.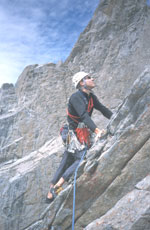 Near the summit and near the end of the day, the rock quality decreased drastically. Up until that point, we were climbing exquisite chickenhead studded stone. Perfect knobs and splitter cracks appeared just as they were needed. Now though, it looked like we were only 50 meters from the summit when the rock became decomposed with big exfoliating flakes hanging precariously above. Todd traversed right then left but couldn't see a way to by-pass the obstacle above. By this time, he too was becoming affected by the altitude and we were all very dehydrated. Nils, however, being the strong lad he is, summoned up the strength and headed straight up through the mess of loose flakes. Tapping, kicking and testing every hold, he slowly inched up the crumbling wall as Todd and I nervously belayed. After over an hour of intense climbing with marginal gear, Nils figured out the nasty loose puzzle and reached the summit ridge. With only a couple hours of light left, Todd and I raced up the pitch as fast as possible gasping and panting from the altitude. Only 15 meters along the ridge was the virgin summit upon which Todd constructed a cairn.
This is exactly what I traveled half way around the world for. Three friends making the first ascent of an unclimbed mountain by a stellar new route done in perfect style: all free, on-sight, and in-a-day without bolts or pins. We christened the tower "Ibrahim Brakk" after our cook and the route "Azad Kashmir", meaning "Free Kashmir" which is the disputed territory on the border of Pakistan and India.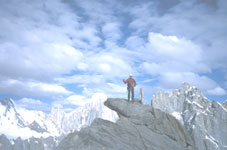 We were hoping we could rappel down the west ridge to a col then continue down a snow gully. However, this was not to be because the opposite side of the ridge was overhanging and would have been very difficult to descend. With that option out of the question, we began rapping back down the face to the left of the line we just climbed hoping to lose as much altitude as possible before we would have to bivy without sleeping bags. The descent lasted well after dark and used up half of our rack for anchors. We managed to escape a cold open bivy but by the time we reached the ground, Todd was dry heaving with dehydration and we were all well beyond wasted. Despite our fatigue, a satisfied feeling overcame us as we stumbled into camp having achieved what we came to Pakistan in search of: exotic culture, adventurous travel, solid granite and committing climbing.

Summary:
First ascent of "Ibrahim Brakk" (c. 5200m) via its south arete;
"Azad (Free) Kashmir" V 5.10+ R, 700m;
Kharidas Valley, Hushe, Karakoram, Pakistan.
FA: Todd Offenbacher, Nils Davis, Sean Isaac July 18, 2000
Special thanks to the Canadian Himalayan Foundation, Mountain Equipment Co-op, Black Diamond Equipment, Kayland Boots, Sterling Rope and Arc'teryx for their generous support.
copyright 2004: SeanIsaac.com