Dion's Dihedral - Peruvian Style Big Wall Climbing
by Sean Isaac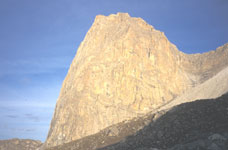 In 1985, Antonio Gomez Bohorquez and Onofre Garcia of Spain completed the first ascent of the east face of La Esfinge (The Sphinx) in the Quebrada de Paron (Paron Gorge) of Peru's popular Cordillera Blanca. Set in a range noted for its high altitude mountaineering, this was the first attention given to the area's fine granite towers and walls. Over 10 days, the two Spaniards worked away at the 750-meter face employing conventional rock climbing techniques, leaving plastic boots, crampons and ice axes behind. The word was out; Peru has good alpine rock.
In the years that followed more routes sprouted up on its walls, all by Spanish. This included a second visit by Bohorquez in 1988 when he and Inaki San Vincete made the first ascent of the southeast face. Perpetually shaded, this cold 900-meter wall yielded the longest, hardest route on La Esfinge to date.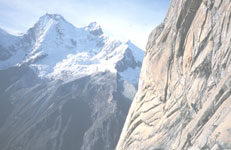 Until recently, confusion shrouded this formidable rock bastion regarding its location, history and especially, its name. On numerous accounts, La Esfinge has fallen under various titles: Cerro Colca, Cerro Marron, Cerro Paron, La Roca, La Aguja Nevada, Torre Aguja and Torre de Paron. The latter actually being the official name of a presumably still unclimbed 4800-meter formation further down valley.
La Esfinge stands as an anomaly amid its massive snow capped companions: The Huandoys, Artesonraju and Piramide. At 5325-meters in altitude, with vertical walls rising above the grass covered talus, it is one of the highest pure rock wall in the Americas.
My interest in this granite monolith was kindled by stories from friends who climbed the more popular peaks in the Paron Valley. They returned with intriguing accounts of massive rock walls rising right from of the road. Weather was the main factor that convinced me this would a great area to explore. After months of festering in wet tents in Patagonia, Cirque of the Unclimbables, and Kryghyzstan, I was more than eager to sample some of the famous Peruvian blue-sky climbing.
Larry Dolecki, my partner for this adventure, and I decided that this would be the perfect alpine rock climbing expedition: unclimbed granite, perfect weather, exotic culture, and cheap travel. Tragically, three days before departing from Canada, we received devastating news. Dion Bretzloff, a close friend and climbing partner from Canmore, was killed by seracs on Peru's second highest mountain, Yerapaja. A dark shadow of sadness was cast over our trip.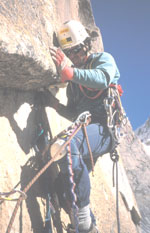 Larry's schedule for this expedition was tight. He only had about 20 days to spend in Peru before having to return to Canada for guiding commitments. With only four days in Huaraz and a single acclimatization hike under our belts, we hired a collectivo (a Peruvian mini van) and headed for the hills. Four porters helped us carry our gear from Paron Lake, where the collectivo dropped us off, to basecamp. Guy Edwards, a partner from many other adventures, and Jason Price, a friend from the United States, joined us for a few days. They wanted to attempt the original 1985 Spanish route that ascends the center of the east face. After four hours of slogging up grassy hillsides, with monstrous loads and even more monstrous headaches from the quick altitude gain, we arrived at a flat area about an hour away from the face. This would be home for the next two weeks.
As Guy unloaded his pack I heard him shout, "How did this get in here?" He stood there dumbfounded, holding a seedy Peruvian porno magazine that he pulled from the bottom of his backpack. Larry and I, the pranksters, tried to hide our laughter while we set up our tent.
The next day, Guy and Jason rose early planning to climb their objective ultra-light and in a day. After a leisurely breakfast, Larry and I spent the day scoping new lines on the wall. Our original goal was to add a second route to the frigid southeast face. However, we decided that with only 16 days in the area, we lacked the necessary time to acclimatize, ferry loads, climb a new route on a 900-meter wall and descend. Instead, we focused on the shorter right side of the east face. Though only 500 to 600-meters in height, this area of the wall had the steepest, cleanest rock on the mountain, and appeared ideal for a modern aid route. We set our sights on a soaring orange-streaked corner that dominated the upper part of the face which was separated from the ground by 200-meters of thin features and seemingly blank sections
While discussing possible new lines, we watched Guy and Jason through our binoculars speed up rope length after rope length of steep cracks and orange slabs. When day gave way to night, we caught glimpses of their head lamps cruising along the summit ridge. They completed the first one day ascent of the 750-meter east face of La Esfinge and descended into the night returning to camp around midnight.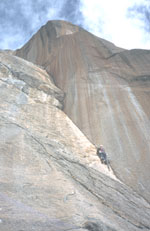 The next morning we said good-bye to our tired friends. They were going to sleep for a bit longer before beginning their journey back to Huaraz. Eager to touch rock, Larry and I and approached the face for our first day of climbing. Larry tackled pitch one, a 5.8 crack that weaved around nasty, prickly plants called pencas which grow on the lower portion of the face. I was close to throwing up as I followed the pitch. The altitude made me nauseous, and I was breathing so hard I thought a lung would rip right through my heaving chest. With the first pitch fixed, we called it a day and darted for camp to nurse our throbbing altitude headaches. What a surprise to return to our tent and find the interior walls plastered with pictures of naked latina women. I guess Guy and Jason had the last laugh.
Over the next few days, Larry and I worked away at the lower part of the wall. The climbing was thin aid requiring many bodyweight placements on copperheads, hooks and beaks. With no obvious or continuous crack systems to follow, we pieced together a puzzle of exfoliating flakes and shallow seams. Short, blank sections were overcome by drilling quater-inch rivets, a hateful task we both loathed. The fourth pitch required two exhausting days of intricate route finding up a maze of micro features. Larry spent a full day on 30-meters of very engaging aid. I took the sharp end of the rope the next day to finish the pitch. Needless to say, I didn't set any speed records as it took me more than seven hours to gain twenty five meters. I spent the day bashing copperhead after copperhead into discontinuous seams with a leg smashing ledge lurking below. In addition to the difficulty, our bodies battled with the debilitating effects of altitude and intestinal illness.

The tales of perfect weather in the Cordillera Blanca were partly true. Every morning was sunny and warm, but without fail, the afternoon sky became dark with menacing clouds. Light snowfall was a regular late day occurrence that gave way to clear, blue skies each morning. We were told later by locals that this was a poor season for weather conditions. They said that most years weeks pass without even seeing a cloud.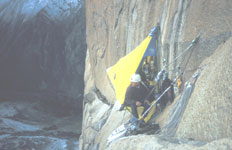 With the first four pitches fixed, we loaded two haul bags with food, water, and bivy gear, and committed to the rest of the wall capsule style. The next few days were spent gnawing away at the upper dihedral. Hoping for free climbing, the huge orange corner turned out to be more aid, taking everything from birdbeaks to #5 Camalots. Luckily, there was a bit of free climbing and the route finding was easier so the pitches went quicker than expected. Three days after jumping on the wall, I finished the last pitch of the dihedral. Larry led one more technical pitch of mixed free and aid, then we simul-climbed up two rope lengths of fourth and easy fifth class terrain to the summit ridge. Here, we ditched the gear and scrambled up the final ridge to the actual summit.
As boiling storm clouds engulfing the neighboring peaks, we snapped a couple quick summit shots and bolted back down the ridge to the top of our route just as snow flakes began to fall. As I started to set the first rappel, Larry dislodged a huge boulder as he scrambled down to my perch. The television-sized rock landed right on one of our ropes, neatly chopping it in half. Hence, in the swirling snow storm, many short rappels were required to reach our hanging camp. Upon gaining the portaledge, I was ready to crawl in to enjoy our last night on the wall before descending the next morning. Larry disagreed. Being a much bigger lad than myself, he despised the claustrophobic confines of our 4' x 6' hanging tent. "You want to spend another night in that miserable thing?" he barked, "You truly are sick!"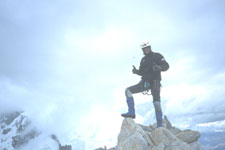 It was settled; our last hour of light would be used to pack up camp and try to get as close to the ground as possible. The first rappels went smoothly, but soon, darkness engulfed us and as if by cue, the storm intensified. The final rappels turned into a total snafu as the ropes tangled and the haul bags snagged on ledges. Reaching the ground well after dark meant we could not find our way back to basecamp, especially with the visibility down to 30-meters from the snow storm. Finally, just before midnight, we found a small rock cave in the moraine and made our last bivy.
We named the 11-pitch route "Dion's Dihedral" (VI 5.9 A3) in memory of our friend. Every time I heard the ice cliffs calving off of the north face of the Huandoy's across the valley from La Esfinge, I felt deep remorse. He was constantly on my mind while I was climbing. I thought of his youthful energy and the great fun we had on the climbs we did together. Larry and I both agreed that this route was for Dion.
We would like to thank the following for their generous support of our expedition: The Canadian Himalayan Foundation, Sterling Rope, Powerbar, Ambler Mountain Works, Arc'teryx, Black Diamond Equipment and Mountain Equipment Co-op.
copyright 2004: SeanIsaac.com